Angel or Devil Slots :: The fight between Good and Bad has never been so funny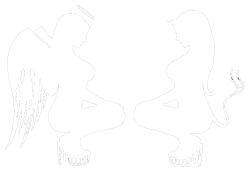 Do you feel more an Angel or a Devil? Which side is guiding your actions today? Dive deep into the light or darkness inside you with the new 5-reel, 20-payline video slot machine from iGaming giant Playtech, Angel or Devil. You are in control, you can choose the Angel or the Devil without worries to be judged. All is related to the risk level you want to assume throughout the gameplay – the angel will guarantee a lower level of risk and more frequent bonuses, while the devil implies a higher level of risk and larger bonuses. The landscape will change with your settings, moving from a heavenly blue sky to a fiery red hell. Also underlying sounds will change, more relaxing and zen in the heaven, rockin in the hell, where you will be even able to hear those much telling crackling flames under your feet. While moving the slider above the reels, either towards the angel or towards the devil, you will also be able to see how the symbols on the very reels change according to the new settings.
Wagers start from just 0.20 and go up to 200 credits. Number of betting lines is fixed to 20 instead.
You can play Angel or Devil for real money or try the game just for fun here.
Symbols, Bonuses and Jackpots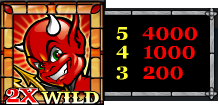 While you might expect to find all symbolic and arcane representations in the name of the best religious tradition, you will instead find the most known classic symbols – Bars, Bells and 7's and the low value symbols of 10, J, Q, K and A that will keep you comfortable in playing.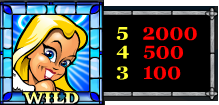 But Devil or Angel slot machine has for sure its very own characteristics too. In fact this slot game features the Devil and Angel as wild symbols, scatter symbol, free spins and additional 'Pick a Card' bonuses. Trigger a special symbol associated with the bonus on reels 2, 3 and 4 and receive five freebies and after every single spin another 'Power Up' given by selecting one of the four cards. These cards may hide: multipliers of winnings, extra credits, extra wilds, lock your spins and super cards that will stay live until free spins round ends. In addition to all of this, Angel or Devil also features a 'Lightning Coin Bonus', a random lightning strike that starts a random cash emission jackpot off. If you are lucky enough, the strike will last longer and the amount of money you win will be accordingly higher. Get three gold coins during this phase and if you're playing with the Progressive Jackpot option switched on, the big prize will be all yours.
Overall
Angel or Devil rides the tradition of classic fruit video slots smoothly integrating its very own graphics and sounds. The ambience is overall pleasant and even if I prefer the relaxing atmosphere of the heaven and the pretty outlines of the angel character, from time to time it is good to face your dark side, challenging the devil and the risk associated. No flames will be too high to stop your run towards the jackpot!
Tags: Angel or Devil, free slots, Playtech, Progressive Jackpot, slot machine review, slots
by iSlot | trackback